MA Digital Media : Postgraduate Course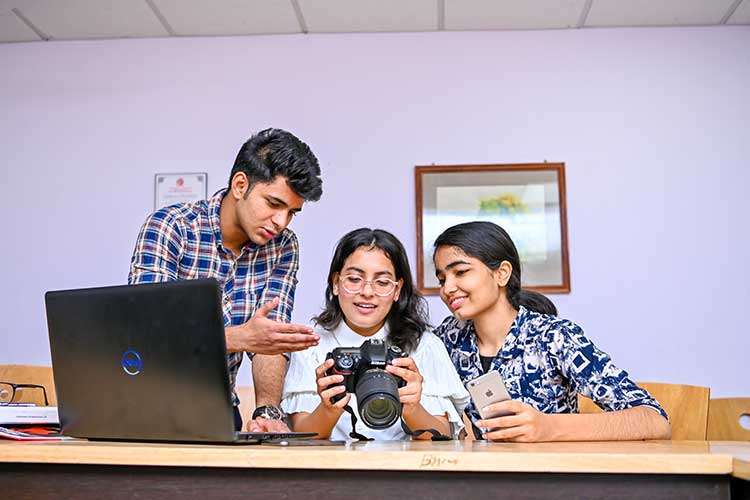 Duration:2 year
Eligibility: Any graduate from recognized university & college
Annual Fees: Rs.80,000/- + Miscellaneous Fees
A master's degree in Digital Media promises a significantly higher standard of achievement in students' knowledge and practice of journalism, as well as in their specialized knowledge of another subject. Students' evidence-gathering capacity should show an advanced understanding of research methods, and they should write with more depth and style. In all journalism courses, they are expected to reflect deeply and rigorously on the practice of journalism, including the way stories are produced and the relevance of journalistic content for different target groups in society. Master's students should emerge with the authority, in knowledge and methods, to work at the most challenging levels of journalism practice. Students with a good first degree in arts, science and/or other disciplines and little or no previous journalism education or experience, should concentrate in the first year of a two-year master's program on the acquisition of journalism knowledge and skills of reporting and writing and media editing and production. They should have the opportunity to visit news media organizations and to benefit from lectures and seminars conducted by practising journalists and from mentorship arrangements. At the same time, master's students should sustain and develop their interest in the major discipline of their bachelor's degree or in the subject in which they hope to specialize as journalists.
Master's of Arts in Digital Media Specialized reporting (ideally constructed) stitches the substantive knowledge of an academic discipline into the craft of reporting. Subjects should correspond to journalism "beats" and, where possible, to the student's arts/science background and master's program. Media workshops: At least two of the following: (reporting and writing for radio, radio editing and production, reporting and writing for television, television editing and production, newspaper editing, design and production, photojournalism, magazine editing, design and production, online/multimedia writing, editing and production) Journalism-Arts/Science balance: Percentages are used to designate the balance between journalism and arts and science. The credit value of individual courses should be calculated according to the system in place at each educational institution.

First year: Journalism 70% Arts/science 30%
Second year: Journalism 70% Arts/science 30%
To Chat on Whatsapp


Course Content
Reporting and writing (Tier 1): Basic news and feature stories.
Media and Society, incorporating an introduction to the coverage of contemporary social issues of importance to journalists, such as gender, race, ethnicity, religion, social class, poverty, development issues, and public health, with training in applying analytical and critical techniques to news coverage of these issues.
Journalism ethics
Media law (national and international)
Media workshops between first and second year Placement/internship/work experience where possible, students should be placed in their specialized subject area in national or international media.
Specialized reporting
Advanced research methods for journalism
Analytical and opinion writing
Master's project /thesis
You will benefit from being in one of the world's most significant media cities with access to thousands of international journalists and sources. On this course you will gain from using both traditional and contemporary journalism tools, and acquire comprehensive skills, which you can take back to your own country or move on with to anywhere in the world.
Click Here
to Apply online